Beauty & Self
Books & Music
Career
Computers
Education
Family
Food & Wine
Health & Fitness
Hobbies & Crafts
Home & Garden
Money
News & Politics
Relationships
Religion & Spirituality
Sports
Travel & Culture
TV & Movies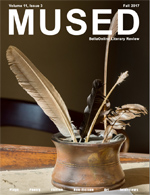 Autumn is a season for counting our blessings. For realizing just how much we have in life where so many others are without. It can often be easy to take things for granted. Things which millions of people desperately dream of having. By pausing for a moment, and looking around with mindfulness, we can find a new center. Begin with fresh energy.

Enjoy the Mused Autumn Equinox 2017 Issue



Squirming and Fidgets with ADD
Attention Deficit Disorder - Connie Mistler Davidson, Editor

Some teachers think that a squirming child is a lazy, bored, and unfocused child. NOT true! Those teachers need to be educated about this ADD research from UCF! These children are moving with a purpose; they are doing what they need to do to facilitate their learning. Let them move!




Southern Rose Ranch French Toast
Senior Travel - Hazel M. Freeman, Editor

Treat that special someone to a morning breakfast they'll remember for a long time. From the small Texas town of Chappell Hill, you'll find the Southern Rose Ranch Bed and Breakfast. Here's their recipe for Strawberry Custard French Toast.




Moving Forward in Prayer
Christian Living - Lynne Chapman, Editor

I failed to fully understand a common pattern for prayer. Revisiting prayer as it relates to God and as it relates to me.




Hurricane Preparedness and Safety
Florida - Georgiana Kurtz, Editor

Hurricane Irma devastated parts of the Florida peninsula during the weekend of September 9-10, 2017. Here are some tips to prepare for and stay safe during a hurricane.




Fall weed allergies
Allergies and Colds - Sheree Welshimer, Editor

Chenopods, sagebrush and ragweed agitate allergies




Slow Cook Modern Cookbook Review
Quick Cooking - Karen Hancock, Editor

Here is an excellent slow cooker cookbook that is designed for the busy cooks of today. It not only contains recipes that can cook for eight hours without getting overcooked, but also includes recipes for side dishes and accompaniments.


| Google+ |
E D I T O R R E C O M M E N D E D
Best Sweepstakes Newsletter Subscription


Best Sweepstakes is an excellent way to keep up on the latest sweeps and contests via online, snail mail and text entry. It´s been around for years and is a trusted newsletter among sweepstakers.
OSTRICH - A Little Book About Life´s Ups and Downs


OSTRICH - A Little Book About Life´s Ups and Downs is a self-help manual of sorts to help women find their balance and their way through life´s many mazes because Life Is What Life Is - Nothing More and Nothing Less... A unique book for women in a rhyming saucy, seussy entertaining style with a New Age attitude. It´s eclectically styled, wisdom gone wild for a woman´s inner child. By Kate Woods
Stranger Safety Video


From Julie Clark, the mom and creator of the Baby Einstein series stars as the super energetic safe side chick in her highly entertaining, yet kid-sized educational video to teach children about strangers. Julie Clark, along with John Walsh the host of Americas Most Wanted Show have created a video packed with sound advice on Stranger Safety for kids age 2-10.