Beauty & Self
Books & Music
Career
Computers
Education
Family
Food & Wine
Health & Fitness
Hobbies & Crafts
Home & Garden
Money
News & Politics
Relationships
Religion & Spirituality
Sports
Travel & Culture
TV & Movies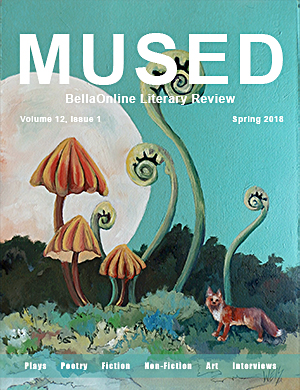 It can seem sometimes as if our world is whirling faster than we can keep up with. It can become overwhelming. Exhausting.

A balm which rejuvenates is to explore the creative efforts of individuals around us. To begin, turn off the noise and clatter of the world at large. Take a deep breath and instead focus on connecting with one fellow human being who presents their jewel of a thought to you. Examine it mindfully. Consider its meaning. Soak in the moment with this one human. Then connect with another. And another.

Enjoy the Mused Spring Equinox 2018 Issue



Roxanne's, Carpinteria
Knitting - Korie Beth Brown, Ph.D., Editor

Driving through Santa Barbara County? Take a stop in the quiet beach town of Carpinteria! You'll enjoy the colorful offerings of this Carpinteria craft store, which offers more than knitting.




Four Works of Easwaran Eknath
Yoga - Korie Beth Brown, Editor

These tomes will not end up in your giveaway pile!




Graduation Preparation
Daughters - Tuculia Washington, Editor

High school graduation is a major milestone in your daughters life. Check out a list of things that will blow you away. Also, included are tips on scholarships, colleges and more.




Blueberries Benefits & Healthy Blueberry Recipes
Nutrition - Moss Greene, Editor

The health Benefits of blueberries makes them superheroes. Use these tasty, low calorie healthy blueberry recipes for disease prevention blueberry benefits.




Shopping for Scents
Fragrance - Juliette Samuel, Editor

Shopping for scents has become a ritual, so to speak, for each new season.You can even do it online.




Fresh Juices For Ethnic Beauties
Ethnic Beauty - Juliette Samuel, Editor

You're no stranger to juicing, especially when it comes to health and wellness. Green drinks and smoothies have become a way of life for a lot of you.You're no stranger to juicing, especially when it comes to health and wellness. But What About Your Skin Care Needs?


| Google+ |
E D I T O R R E C O M M E N D E D
Ni Hao, Kai- Lan: Super Special Days DVD


This Ni hao, Kai- Lan DVD: super Special Days is great for preschoolers who are fans of the show, or for preschoolers who need help identifying and managing negative emotions.
Stranger Safety Video


From Julie Clark, the mom and creator of the Baby Einstein series stars as the super energetic safe side chick in her highly entertaining, yet kid-sized educational video to teach children about strangers. Julie Clark, along with John Walsh the host of Americas Most Wanted Show have created a video packed with sound advice on Stranger Safety for kids age 2-10.
Christian Living Site Shop


Find book reviews of Christian Books both fiction and non-fiction. Read my experience in purchasing a Bible Book Cover.